The Kingdom of Cambodia is a country with ancient temples, protected forests, and sandy beaches. Cambodia has a rich history and a harrowing fate. Cambodia is one of the most popular destinations in Asia because of its tropical climate, great tourist sites, and wide range of activities.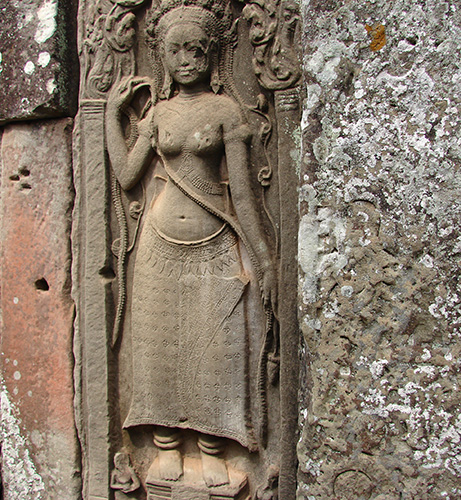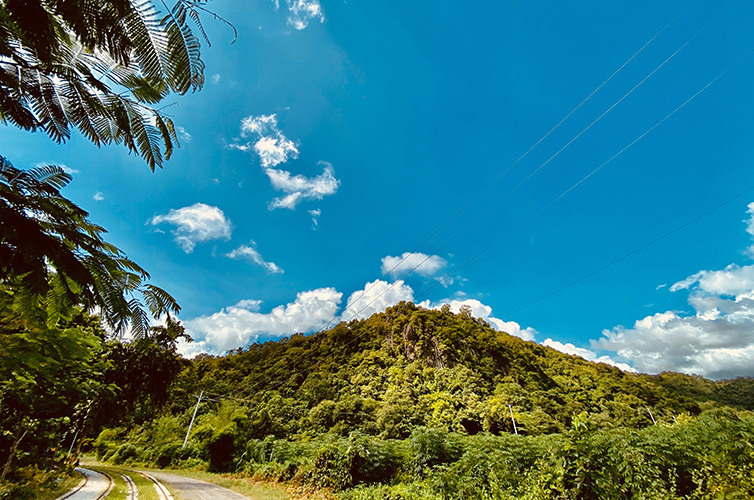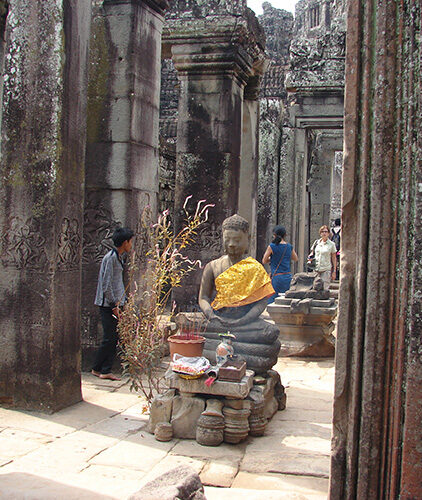 The capital of Cambodia is Phnom Penh, and it is the largest city in size.
Territory. Covering an area of about 181,040 square kilometers, Cambodia is almost half the size of Vietnam.
Population – 15 288 489. The main population of Cambodia is Khmer.
Language – The official language of the Kingdom of Cambodia is Khmer.
Requirements for entry to Cambodia
Vaccinated travelers no longer need to go into quarantine upon arriving in Cambodia. Your vaccination card or certificate should show that you've completed two rounds of vaccines. 
We have received new information from people who were vacationing in Cambodia in October 2022. When entering Cambodia from Thailand, no one asks for a vaccination certificate.
Health Insurance for travel in Cambodia
If you are going to Cambodia, you need to insure your health. In Phnom Penh and throughout the country, the quality of medical care varies greatly. Medical care is good. Though there are many hospitals and pharmacies, ensuring you have enough money for any unexpected circumstances is vital.
Visa for visiting Cambodia
You will need a valid passport for at least six months and a Cambodian visa to enter Cambodia. Visa on arrivals is now available, as it was before the pandemic. Visa is valid for 30 days from the date of entry into Cambodia. It costs $30. The tourist visa is single entry only and can be renewed once for an additional 30 days for a fee of $30—form to fill out, one passport photo, and payment only in cash.
You can also apply for an e-visa online for $36, 30 days, and a processing time of 3 business days. One passport-size photo in digital format (JPEG or PNG format), a copy of the passport, and a valid credit card (Visa/MasterCard). After receiving your visa through email, print it out twice (one for entry and one for exit) and bring it along when you travel to Cambodia.
The local currency is the Cambodian Riel. The American dollar is in use and is practically the kingdom's second currency. Prices in shops, hotels, and restaurants are everywhere, indicated in dollars. Even in the market, the price will be in dollars. Change can be in dollars and local currency, but if you have a choice, ask for a change in dollars. In general, almost all the local population prefers dollars.
You can exchange currency in Cambodia at banks and exchange offices. Visa, MasterCard, and American Express credit cards are good in big cities' hotels, shops, and restaurants.
The Cambodian civilization, which developed for two millennia under the influence of the civilizations of India and China, in turn, nourished other civilizations of Southeast Asia with its culture. Starting from the Hindu-Buddhist kingdoms of Funan and Chenla of the 1st-8th centuries and ending with the era of the Angkor period (9th-15th centuries), the Khmer state dominated the territories now part of Thailand, Vietnam, and Laos.
The Khmer Empire reached its zenith in the 12th century, a time marked by the construction of massive temple complexes known as Angkor Wat and Bayon, as well as the imperial capital of Angkor Thom (Angkor Archaeological Park in Siem Reap).
The prince, known to his successors as Jayavarman II, whose kingdom's capital was in northwestern Cambodia, near Siem Reap, founded a cult on worshiping the Hindu god Shiva as a Devaraj ("god-king"). The cult that legitimized the reign of the king, linking him to Shiva, persisted in the Cambodian court for more than two hundred years.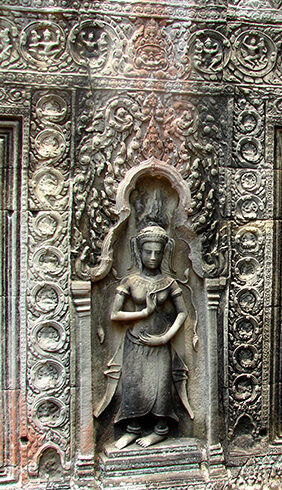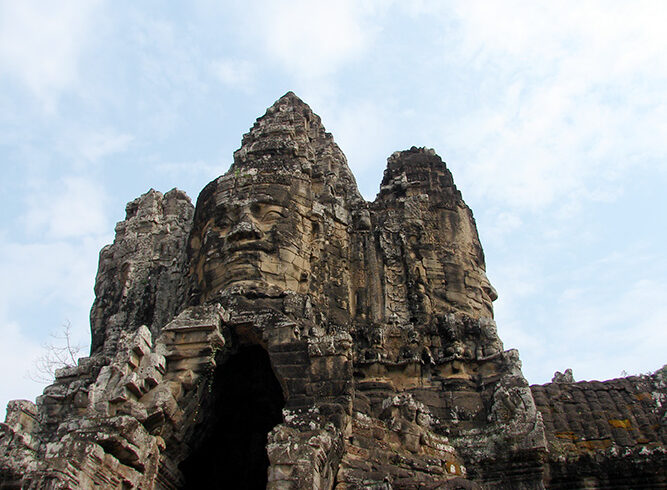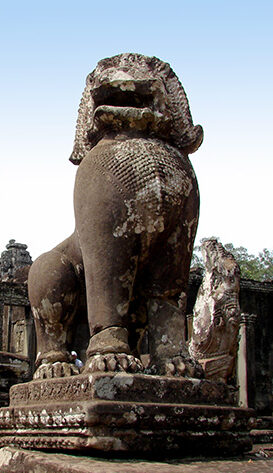 The successors of Jayavarman II built the great temples for which Angkor is famous. Among the Khmer builder kings were Suyavarman II, who created the temple known as Angkor Wat in the mid-12th century, and Jayavarman VII, who built the Bayon Temple at Angkor Thom and several other major Buddhist temples half a century later.
Bayon Temple, Angkor Thom The giant faces carved on the Bayon Temple in the Angkor Thom complex in northwest Cambodia represent both the Buddha and King Jayavarman VII (ruled circa 1130-1219).
Although Bayon was a Buddhist temple, it was modeled after the great Hindu temple complex of Angkor Wat. Jayavarman VII, an ardent Buddhist, also built hospitals and rest houses along the roads that crossed the kingdom. However, most monarchs seem to have been more concerned with demonstrating and increasing their power than with the welfare of their subjects.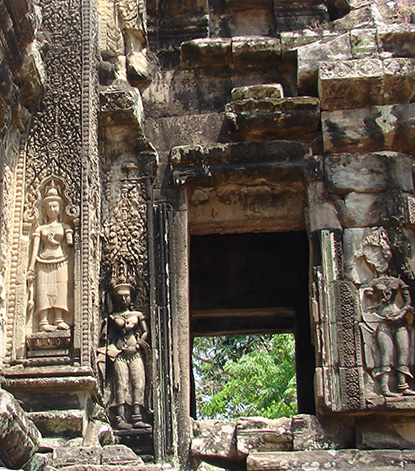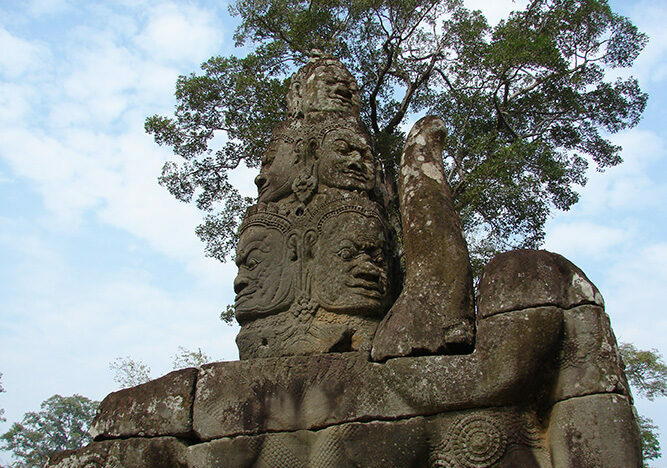 After 400 years of decline, Cambodia became a French colony and experienced upheaval, war, Japanese occupation, post-war independence, and political instability throughout the 20th century. Between 1975 and 1979 the country was devastated by the rule of the Khmer Rouge, a communist guerrilla movement. During the reign of the Khmer Rouge, at least 1.5 million Cambodians were killed or died, a huge tragedy from which the country is still suffering.
In September 1993, Cambodia adopted a new constitution that restored the pre-1970 Kingdom of Cambodia, although it was now a constitutional monarchy and a multi-party liberal democracy. According to the constitution, the king, who is the head of state, is elected from among the heirs to the royal throne by the Royal Throne Council. King Norodom Sihanouk ascended the throne in accordance with the new constitution. In 2004, King Sihanouk decided to abdicate and Prince Norodom Sihamoni was elected to take his place.
Crimes against foreign citizens in Cambodia – sometimes happen. But the danger of petty thefts is much greater. Because of this, tourists should take reasonable precautions and not walk alone. The most common crime against foreigners in Cambodia is theft from tourist apartments, so you must take appropriate precautionary measures to eliminate this possibility. Keep the originals of your documents in the hotel safe or at the reception. Carry copies of the documents with you.
Cambodia has an ideal tropical, monsoon, and humid climate. The temperature can reach as high as 38C in summer (July – August). It is dry most of the year but there are some rains, especially during the monsoon season. More about the weather read in the article " Weather in Cambodia"
There is a high probability of sunburn in Cambodia. If you decide to explore local attractions between 12 pm and 4 pm, please do not forget about Panama hats, sunglasses, protective creams, and drinking water.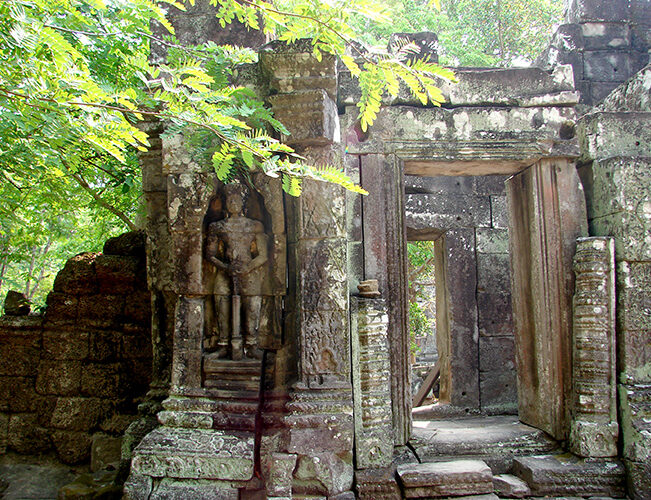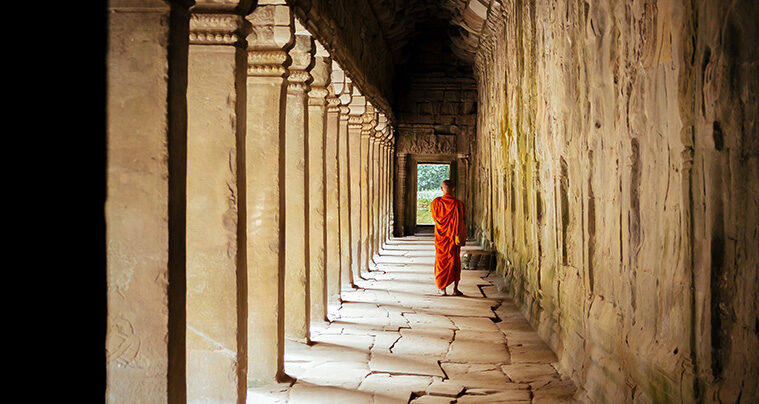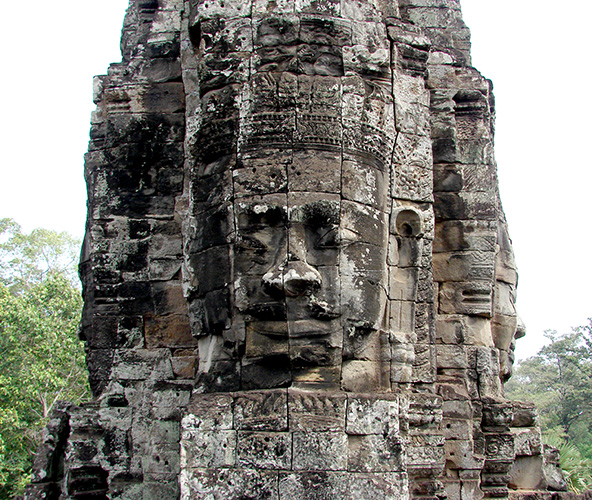 The most common religion in Cambodia is Buddhism. 93% of the population are Buddhists. Cover your shoulders and knees to show respect for traditions and faith in temples. Always ask permission if you want to photograph temples and people, especially monks. The monks will be very grateful if you donate a small amount of money to the temple or buy a candle.
No mandatory vaccinations are needed to visit Cambodia. However, doctors recommend that tourists get vaccinated against typhoid fever, malaria, rabies, diphtheria, tetanus, hepatitis A and B before traveling to this country.
There is no public transport in Cambodia, even in Phnom Penh. However, private transport companies connect different cities throughout Cambodia by buses. The national mode of transportation is tuk-tuk and motorbike. A characteristic feature is that no one observes the traffic rules on the roads in Cambodia.