The Sihanoukville, or Kampong Saom, is named in honor of King Norodom Sihanouk. Sihanoukville is a small resort town on the shores of the Gulf of Siam. There is everything for lovers of seaside holidays – one of the best beaches in Asia with white sand, many hotels, and restaurants with delicious food. Massage parlors, shops with souvenirs and clothes, and much more await you in the city. It will be comfortable here for young people and people of retirement age. You will love this place.
HOW TO GET TO SIHANOUKVILLE
You can get there by bus from Thailand. Unfortunately, it is currently impossible to purchase direct bus tickets from Bangkok to Sihanoukville in advance. Buses from Bangkok from Virak Buntham Express go to Phnom Penh, and you will need to take a bus to Sihanoukville on your arrival in Phnom Penh. In addition, the bus goes through Siem Reap, where you will probably have to transfer to a mini-van. On top of that, you will likely spend more time here than planned due to visa issues with your fellow travelers. You may miss the bus if you buy the next ticket in advance. You must decide whether to save a little on the ticket or avoid this torment.
Things to do in Sihanoukville
There have been few attractions in the city since the town was young – it was founded in 1954 as a deep-water port. Therefore, the Golden Lions sculpture, installed a quarter of a century ago at a traffic intersection near Serendipity Beach, is considered the city's hallmark. But there are quite a few interesting places worth visiting.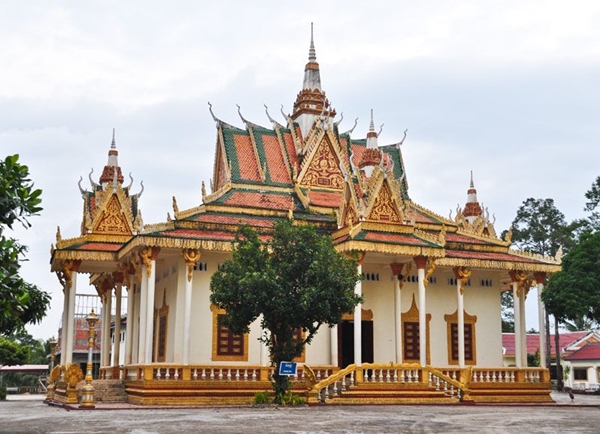 The Buddhist temple Wat Krom, dedicated to the patroness of sailors and travelers on the road, the goddess Ya-Mao, is distinguished by its unique architecture and beautiful landscape. It resides three kilometers from the center of Sihanoukville.
This active temple is one of the significant temples in the city. Many parishioners flock here to celebrate Buddhist holidays. Since it resides on a lowland, from the observation deck, there will be a beautiful view of the sea.
The temple is located near Independence Beach. You can reach it by tuk-tuk or taxi by telling the driver: "Wat Krom temple." The entrance is free.
Preah Sihanouk National Park
Wildlife and hiking lovers should take a day trip to Riem National Park, located 20 kilometers from Sihanoukville. The park is vast; its area is 210 square kilometers. The ranger who will be your guide will introduce you to the unique untouched nature. You will see mangrove forests, walk through the jungle, take a boat ride and swim on a wild beach. The tour includes breakfast, lunch, water, and drinks without restrictions. Please bring swimwear and sunscreen. Wear comfortable shoes (you will have to walk a lot) and clothes that cover your legs and arms; do not forget to put something on your head.
If you're lucky, you can see such unique animals as crab-eating macaques, which spend a lot hunting for crabs, Javan marabou, and many unusual and beautiful plants. Also, do not miss the opportunity to make a wish at the massive tree of fate, which is believed to grant cherished wishes.
After lunch, you will have a boat ride to the beach for 1-2 hours. The beach is clean, narrow, and sparsely populated, with a gentle white sand entrance, the depth starts after 15 meters, and the water is clean, although not transparent. On the beach, you can visit the cafe.
The national park is located 18 km east of the city. We advise you to go there with a guided tour, which you can purchase at one of the local agencies in Sihanoukville for about $ 25 per person. The price includes transfer to the national park, ranger escort, breakfast and lunch, unlimited water, and Coke.
The cascading Kbal Chhay waterfall is quite popular with locals and tourists and is rightfully considered the main attraction of Sihanoukville.
This waterfall is also used as a source of drinking water—the appearance of the waterfall changes depending on the season, from a bubbling stream to a small one. Water falls into the waterfall from two sources. One of them is thermal; the water temperature is about 26 degrees. The second source has cold, crystal clear water. This place is perfect for a pleasant, relaxing holiday, which locals and tourists love.
Kbal Chhay is located 16 kilometers from the city in Hai Prei Nup, and you will have to get to it by taxi, bike, or local travel agency bus. You will need to pay $1 to enter.
Koh Rong and Koh Rong Samloem beaches
The best beaches around Sihanoukville are undoubtedly on the islands of Rong and Rong Samloem, which can be reached by high-speed ferries from Serendipity Pier in Sihanoukville departing at 9:00 AM, 11:00 AM, and 3:00 PM. The ride will cost you $14 and will take about forty minutes. Therefore, many travelers do not stop in Sihanoukville but go straight to the islands.
Koh Rong Samloem Island
When you arrive at Koh Rong Samloem Island, the ferry will dock at the pier in Saracen Bay. The combination of fine white sand on the beach and calm emerald water in the bay makes travelers believe that they are in heaven on earth as soon as they go ashore. And this is just Saracen Bay Beach – one of the best beaches in forty minutes sailing from Sihanoukville.
There are also several restaurants on the coast, and those who wish to spend a few days on the island can book a room in one of the hotels on the first line along the beach—the hotel with the best customer reviews and the highest TripAdvisor rating – Eden Beach Resort. Also, pay attention to the hotel with rather exciting architecture and good reviews from guests – Moonlight Resort.
But if you walk along the path starting from the Octopussy bar for about one and a half kilometers (be sure to put on your shoes), then you will come to the other side of the island, where another, the more secluded beach awaits you – Lazy Beach. The sand on this beach is not as white as on Saracen Bay, but the water is amazingly emerald, and there are almost no people. Here you will find silence, cleanliness, and solitude (and you will soon get used to the loud sound of many cicadas coming from the jungle :)).
If you are a fan of snorkeling, and just like us, always carry fins and a mask with a snorkel, then try to explore the sea near the stones on the left side of the beach – these are, of course, not reefs near the Coron Island, but coral fish like Parrotfishes, Spinefoots you will meet most likely.
Some cons: there may be problems with electricity, wi-fi, mosquitoes, and other animals entering the bungalow on Lazy Beach. Don't forget to take a hand torch with you – it might come in handy. Well, and, of course, bring sunscreen, motion sickness pills, mosquito repellent, and cash with you.
Koh Rong Island
Koh Rong  is the largest island near Sihanoukville. Although the center of the island is hilly and almost the entire island is covered with jungle, most coasts are beaches of various lengths and with sand of different colors, from nearly white to pink. The island has a well-developed tourist infrastructure on the coasts with many hotels. However, the road network on the island is practically non-existent, and the most impressive infrastructure project carried out on the island is fiber optic internet.
The village of Koh Touch is the tourist center of the island and the place where ferries arrive from Sihanoukville and Koh Rong Samloem. Hotels, restaurants, shops, and tours to other parts of the island are sold (5 – 10 dollars per person). Here is one of the island's beaches, but – not the best, crowded, more or less clean part of the beach – the northern part, away from the pier.
Ferries from Sihanoukville also arrive at 4K Longest Beach and Sok San Long Beach. At Sok San Long Beach, you will meet seven kilometers of pure white sand, palm trees, and an incredible turquoise blue sea. The place is suitable for a relaxing and comfortable vacation, including for families with children.
You can stay here at the Sok San Beach Resort. The price includes breakfast at this hotel and a restaurant on site. The hotel offers transfers from and to the airport.
Another great beach on Koh Rong is Long Set Beach (4K) – a four-kilometer beach with white, soft sand, clear water, and stunning landscapes, along which there are not as many hotels as on Koh Touch, but they are, and you can choose on your own, following the reviews and prices.
A ferry from Sihanoukville also lands here, but you can reach Long Set Beach on foot from Koh Touch in about 30 minutes, travelers who know the island write. In addition, some hotels here offer complimentary shuttle services to Koh Touch daily. According to traveler reviews from Tripadvisor, one of the best hotels on the beach is the Long Set Resort.
Koh Rong International Ecotourism Airport will be in five years
A $300 million international airport is expected to be built on Koh Rong within five years, expanding the development prospects of Cambodia and Koh Rong.
On January 18, 2023, a Memorandum of Understanding was signed between the State Secretariat for Civil Aviation of Cambodia and Royal Group Koh Rong Development. The master plan for Koh Rong International Ecotourism Airport was also adopted.
You can read about it in an article in the Khmer Times.
If the best beaches around Sihanoukville are on the islands, then one of the best beaches in Sihanoukville is probably Soha Beach, a clean and well-groomed crescent-shaped beach with white sand located between two rocks. It is one of the quietest, calmest, and at the same time, picturesque beaches of Sihanoukville. But, you will have to pay to enter the beach as the beach is private property. But this beach is worth it! In addition to the standard swimming program, sunbathing, and taking great photos for Facebook, you can go snorkeling around the coast. The only reasonably expensive bar at Skhoa Resort is on the beach, where you can buy drinks and try good seafood snacks. Almost all beach territory belongs to the five-star Sokha Beach Resort, with good guest reviews. However, the far eastern part of the beach is open to everyone and is a favorite place for young local couples.
One of the most popular beaches in Sihanoukville, and at the same time devoid of the hustle and bustle of Serendipity and Ochheuteal beaches, is Otres Beach.
It is a clean, uncrowded, and quiet beach three kilometers long, the most remote from the city, located south of all the popular coastal places of Sihanoukville.
There are far fewer pushy vendors, but there are a few bars along the beautiful coastline, and most of the beach has sun loungers and umbrellas. On Otres Beach, in addition to the usual beach holiday, you can go kayaking or windsurfing.
Those wishing to walk to this beach can walk over the hill from Ochutel beach.
If you have the idea of finding a hotel near this beach, consider the following options: Mary Beach Hotel & Resort, White Boutique Hotel, or Sea Breeze Resort.
Independence Beach
Independence Beach is a kilometer-long strip of sand southeast of the Independence Hotel. This beach can also be called one of the best places for swimming in Sihanoukville. There are sun loungers and umbrellas and restaurants with their sun loungers. You will enjoy this calm, uncrowded (but not on holidays) beach if you value peace and solitude.
SIHANOUKVILLE SUPERMARKETS
Samudera Supermarket is located next to the central market, on Makara Street. Opening hours are from 6 am to 10 pm. There is free parking. As in any supermarket, you can buy everything you need – all kinds of products and dishes, household goods and much more.
Lucky Ocean Supermarket is in the city center. Opening hours are from 7-30 am to 10 pm. There is free parking. It is the largest supermarket in the city with a vast range of imported food and drinks. It is huge and spotless. Unfortunately, there are very few local products here. There are departments with household goods.
Orange Supermarket is also in the city center. Opening hours are from 7 am to 11 pm. There is free secure parking. The range of food and drinks is smaller than in the Lucky Ocean Supermarket, but there is a vast selection of glasses and china. There is a reasonably large selection of household appliances.
Rent a bike if you don't like to sit in one place. You can visit a vast number of beaches, including distant ones. Don't forget to bring your international driver's license with you.
Buy Cambodian coffee and unrefined coconut oil as souvenirs.
Don't forget to use sunscreen. You can burn even while in the shade.
All Sihanoukville hotels on the map